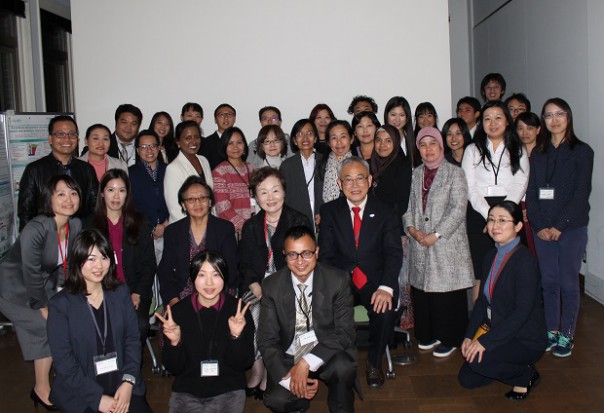 A workshop regularly held by APRU Population Ageing was held from November 9, 2017 to November 11, 2017 at the University of Tokyo, Hongo campus. This workshop was hosted by the Institute of Gerontology and Co-Creation Center for Active Aging, and received 21 participants from 9 countries (including Japan). Five graduate students from Keio University and 39 graduate students from the Global Leadership Initiative for an Age-Friendly Society (GLAFS, Institute of Gerontology) attended parts of the workshop such as the poster session. We would like to thank Japan Foundation Asia Group for supporting travel expenses for some of the participants from Asian countries.The detailed program of the event can be found here.
Two key note lectures were presented on the first morning of the workshop. First, Dr. Megumi Rosenberg, Technical Officer of WHO Kobe center presented a lecture on "Measuring and Evaluating Age-Friendly Cities and Communities" and introduced the Evaluation methods for Age-friendly cities designed by WHO, and actual examples of such cities. Dr. Takeo Ogawa, President of the Asian Aging Business Center gave a lecture on "Recommendation of Action Research for Promoting Age-Friendly Communities" and showed examples of Action Research projects. A poster session was held over a lunch buffet. Participants who came from diverse backgrounds presented their research and discussed their topics of interest.

Dr. Megumi Rosemberg's lecture can be found here
Dr. Takeo Ogawa's lecture can be found here
*Copyright of the presentations are held by the authors. Unauthorized
>>> reproduction is forbidden.
In the afternoon, participants took part in a simulation of the "Otagaisama Workshop," a method introduced by Dr. Ogawa in his lectures. Mr. Yutaka Yamauchi from NPO donner le mot facilitated the workshop, and Mr. Minami Sintaro and Ms. Naoko Haraguchi from Kyushu Economic Research Center, and Ms. Kimiyo Sasaki and Ms. Reiko Yuasa from Asian Aging Business Center helped the groups start discussion. The participants experienced the importance of different stakeholders sharing opinions about their community, and discussed how this method can be applied to their community. The day ended with a welcome dinner where participants relaxed and networked.

Professor Tri Budi Rahardjo's lecture can be found here
Dr. Thanakamon Leesri's presentation can be found here
Mr. Yukitsugu Komazawa's presentation can be found here
(Dr. Ad Maulod does not wish to post his presentation on this website.)
*Copyright of the presentations are held by the authors. Unauthorized
>>> reproduction is forbidden.
The four projects were presented on the final day. Each group had participants from 3 to 4 countries and all research projects were international. The title of each group is as follows.
*Copyright of the presentations are held by the authors. Unauthorized
>>> reproduction is forbidden.
More photos can be found here.
Comments from GLAFS students who participated in the workshop:

Yukitsugu Komazawa, Engineering Department, D1
In the last closing remarks, we heard the words, 'Science for society', which means, in my understanding, all of us are responsible for improving the society as much as we can. Although the countries the participants came from were different from each other, I felt some possibility for co-building the unique Asian models under the basic attitudes the teachers and presenters mentioned. Personally, thanks to other splendid participants, I found my weaknesses which I have to overcome, and this has motivated me more. Without this program and the participants, I wouldn't have recognized these important things. So, I really appreciate it. And, I hope we will some time talk about the future vision with each other.
Suthutvoravut Unyaporn, Medical Department MD2
On November 11th, participants of Association of Pacific Rim Universities (APRU) workshop visited Kurashi-no-hokenshitsu(Life Classroom), Mimoza house and Maggie's Tokyo. We were kindly provided information about the project by Dr.Masako Akiyama who is the head of the centers and after that the staff guided us around the Life classroom and Mimoza house. Life Classroom is a community-based counselling center for lifestyle, health, medical treatment and nursing care. Mimoza House is a small-scale multifunctional in-home nursing care which helps elderly people to continue living in their own community. Also, we visited Maggie's Tokyo which is the cancer support center. The center provides counselling and support for cancer patients and their families to help them feel relaxed and retain their self-esteem. Lastly, we exchanged interesting opinions between the staffs and researchers from different countries. As we have seen these 3 centers, we felt that they are essential support for today's society.
Nobutada Yokouchi, Medical Department D2
It was an ideal weather for an outing on that day. We started from Hongo campus and on our way through Nezu, Sendagi, and Yanaka, we visited Nezu community center, Nezu shrine, and Yanaka ginza shopping street. The visit to Nezu shrine was especially exciting for the participants, because we had our Japanese tradition of Shichi Go San on that day. Each of us from Todai contributed to explaining the facilities and traditions to the participants. We also learned new perspectives through participants' questioning which were simple yet essential.
Reina Yoshizaki, Engineering Department M1
I joined the tour to the National Rehabilitation Center for Persons with Disabilities. We were shown equipments for evaluation of products for their compliance with Japanese Industrial Standards(JIS), which is one of the major roles of the Rehab center, and a test model of wheel chairs with function to control body temperature of the person who rides it. In the care equipment exhibits, we saw and tested life support technology such as communication robots, tools that help memory recall, equipment that avoids skipping pills, and toilets which supports dementia patients. Participants had a lively discussion on the moral issues of communication robots, and care system in Japan during the Q&A session.